This is my new video "Sea Of Heartbreak" feat. Tommy Nilsson.
My latest album release is a single:
"Sea Of Heartbreak".

"Sea Of Heartbreak" is included in the album Angel Blue, released in all online stores later this spring. The album contains a mix of famous country songs and the own song "Angel Blue".
Tommy Nilsson was the obvious choice when country artist Karin Risberg would make a new version of the song "Sea Of Heartbreak". Already in 1961 it was high on the billboard list. Now, she hopes that the new single and musical video will bring new interest to one of her favorite songs.
Tommy and Karin are good friends for many years but have never had an opportunity to work together.
"It was so fun to join Karin's new album. We have known each other since the 80's but have never sung together. It was easy to record the video because we knew each other for so long. I hope it can lift the already so beautiful "Sea Of Heartbreak," says Tommy Nilsson.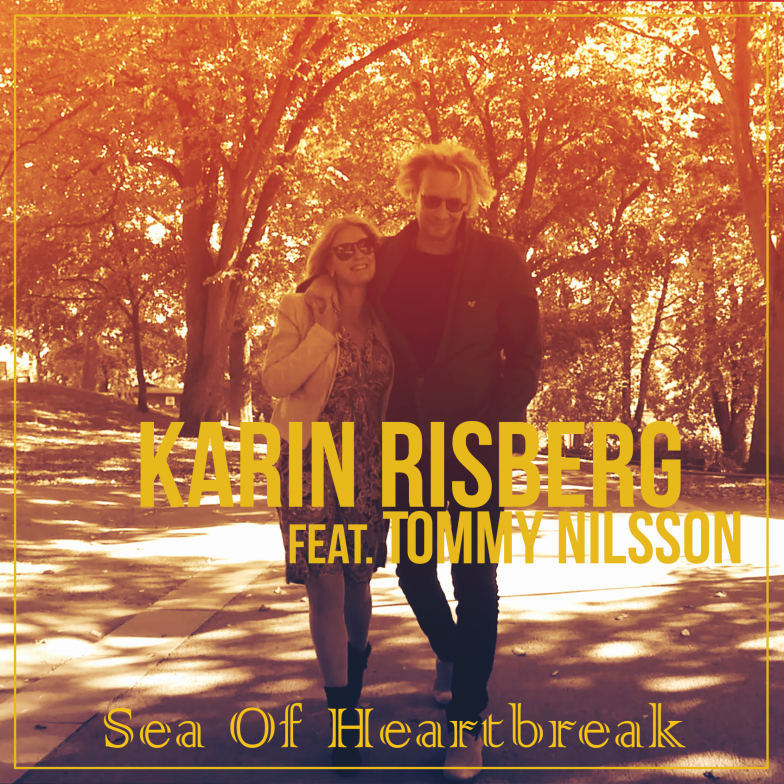 Karin Ulrika Risberg , born April 27, 1963 , is a Swedish singer and songwriter from Skelleftehamn .
Karin Risberg made her first appearance as a 13-year-old. It was at the youth farm Kåken in Skelleftehamn. Since then, she has participated in many different contents and sung behind several well-known artists such as: Robert Plant (Led Zeppelin), Carola, Nanne Grönwall, Py Bäckman and Mats Ronander.
The first record contract is written in the mid 1980s. The song " Marie Antoinette " is played diligently and reaches placements even on lists outside Sweden.
In 1986 she participated in the Melodifestival with the song "Stop, Stop, Stay" written by Kjell Lövbom and Peo Thyrén.
After the Melodifestivalen tour, Johan Wahlström Band followed well-known musicians, including Hasse Olsson, Max Loretz, Max Schultz, Sven Lindvall, David Carlsson and Leyla Yilbar.
In the late 1980s, Karin started working with the French producer Jaques Morali, the man behind, among others: Village People, Eartha Kitt and Richie Family. She goes to France, gets the artist name "Angel Blue", revives the covern "Light my fire" and participates in a number of TV shows. 
1991 was the time for the Melodifestivalen again, that time as the choir singer behind Maria Rådsten and the song "Whatever happens".
Music continued with tours under the heading "Girl Rock". She performs on several rock scenes together with well-known artists such as Py Bäckman, Tove Naess and Camilla Andersson (Millas Miracle).
1994 begins a four-year collaboration with Tomas Haglund Band. They participated in "Solsta Café" and played at country music festivals around Sweden, Norway and Denmark. In 1995, the band released the album "First Edition".
In 2004, Karin duo " KaZu " started with the singer and pianist Suss von Ahn. Duon played at corporate events and private parties both in Sweden and abroad. In 2011, they participated in the World Childhood Foundation, Spring Gala, Florida.
2006 begins collaboration with Lonnie and the lonesame riders & Hasse Rosén (The Violens / Jerry Williams). The band is playing at several country festivals and clubs.
In 2009, she becomes one of the band members in Stockholm Stoner , including Mats Ronander. The band releases a CD and toured in Sweden and Rock the Regatta at St Martin.
2009-2014 she participates in a number of country contexts, including: Avesta Country Music Julshow together with Mats Rådberg, Billy Yates, Cina Samuelson, Kerstin Dahlberg, Lennart Sjöholm and Liza Öhman. In 2010 and 2014, she is also one of the jury members in Country SM.
She travels to country festivals together with Lonnie & The Lonesome Riders and Three Chicks consisting of Karin Risberg, Cina Samuelson and Kerstin Dahlberg. She also participated in a memorial concert and compilation CD in Alf Robertsson's memory: "To Alf Robertson with Love".
In 2011, she exchanges a temporary genre and releases the single "Jimmie Says" , written by Paul Rain and Marie Reinikainen. The project was called RXM.
Then there are more Country Cruises, Country Festivals, Christmas shows and gigs at Sthlm Station Inn, Stampen, Windshield and Charity Events at the Center Church.
In 2015, she participates in the Sävenäs Pop & Vis Festival, Ö Rock and a tribute concert to "The Band". At the concert "A Tribute To The Lazt Waltz" she sang "Evangeline" together with Magnus Carlsson (Weeping Willows).
That same year, her first CD comes with her own song material. The song "Angel Blue" becomes an appreciated song for the audience. She starts a songwriter collaboration with the singer and songwriter Vivien Searcy.
In 2016, performances will take place at: Cancergala On the Mend in Skellefteå, Silkeborg Countrymusic Festival in Denmark, Silja Galaxy Boat Trip and work together with Three Chicks in Vara Konserthall. The year ended with Christmas show in Skelleftehamn.
2017 – Cancergala "For Magnus" – in Skellefteå.
She goes to Nashville Tennessee to immerse herself in country music. In connection with that, she gets the opportunity to sing alongside the well-known country band The Time Jumpers & Vince Gill at 3rd & Lindsley.
She starts new acoustic band and participates in the food tasting "Taste Stockholm" , the country festival in Skråmträsk and Sävenäs Pop & Vis Festival.
In October, single and music videos were released from the album "Angel Blue". Together with Tommy Nilsson, she interprets a countryhit from the 60's, "Sea Of Heartbreak"